LaserMakerShed Collections
A little bit about LaserMakerShed
Hi welcome to my little puzzle shop. I make these puzzles in a couple of sheds (workshops) at the top of the garden here in Dorset. The puzzles are cut out using a laser cutting/engraving machine and then glued (if required by the design) and finished, by hand. I got into doing this after being made redundant from a bike shop that I ran (before the Covid 19 bike boom).
Image Gallery
Here are just a few creations from LaserMakerShed, click on an image or visit the product page to find out more.
1 Review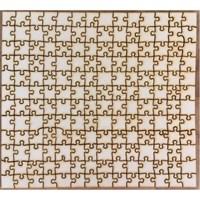 Think this one is going to take some time! Looks great and well finished. I've packaged it up to make a gift.
LaserMakerShed Policies