Our first Birthday
Written by Chris Monaghan
February 1st, 2022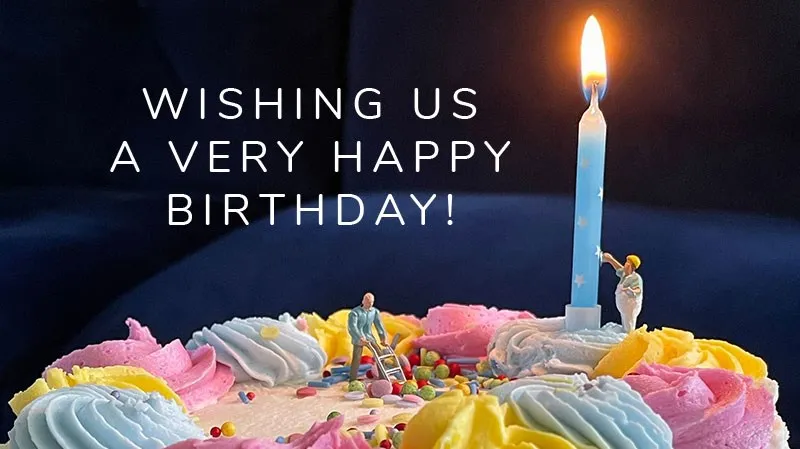 It has been an amazing 12 months and we've made it to our first birthday! So this seems like a good opportunity for us to celebrate, reflect, and to eat some cake.
We really couldn't have done this without our fabulous sellers and their amazing stuff which makes our platform everything that it is – but also each and every one of our customers who support those makers and have helped to shape Small Market and made us into what we are now. Thank you. We really appreciate you being a part of this with us, whatever it is that you've helped us to do!
A birthday is a great excuse to reflect so let's have a look at how things have gone, celebrate our small wins, and even some of our challenges to see what's got us to where Small Market is today.
Small Wins
Reaching our first hundred sellers in the first few months of going live was a major achievement for us. We never knew how sellers were going to react to us, especially as we were a growing platform in the very early stages of evolution so it was great to see so many people trust in us and sign up to Small Market as we started to grow. The range of things we have to offer is testament to the makers that put in the hard work to make these products, and without them we're nothing.
Going from a handful of handmade products on launch day, to thousands as the site has grown has been really exciting to see. The range of items, talent on display and type of people making them is really lovely for us to witness and it's been a genuine joy to see what's new each day. Each time we get a new product alert we like to have a good nosey at what's going to be launching on the site next.
Quite early on in our journey we had a positive recommendation from one of our sellers on TikTok, and overnight we had hundreds of applications from new sellers wanting to join the platform. It was a really steep learning curve for us, and could easily have been our downfall if we'd have got carried away with ourselves and accepted every application on the basis that we wanted to be big - but we've always been Small Market and we always will be! We stuck to our vision, and our criteria, accepted some great makers but crucially not every application, and grew the site in the way that we knew was right for us. Even though we don't always utilise videos to their full potential on our social platforms as we're not making the fabulous things ourselves, it doesn't stop other people from talking positively about us and we're always grateful for that support - it makes the world of difference, and the traffic we gain from those kind of interactions from people that do like us (and we're not telling them to say that!) is amazing.
Getting our product listings to appear on social platforms like Facebook, Instagram, Pinterest and Google merchant centre has been one of our big wins this year, and something we've worked really hard to achieve. It means that people will start to see Small Market products as part of searches on shopping pages and social searches - it's a great way of getting more traffic to individual products but has taken a lot of consideration in getting it right, and a lot of effort from our sellers too. We've been tweaking the data feeds to ensure that all of the engines are scanning the product info and getting all of the right information out of it to display correctly, and have given our sellers the tools to ensure their SEO scores are as high as possible to give their products the best chance of ranking highly within these competitive marketplaces. Selling on a platform is one thing, but getting customers to your products continues to be a big one of our priorities.
Challenges
Things can't always be plain sailing when starting a business, and we like to think that one of our selling points is that we're always very honest about our approach. We're a two person team putting our heart and soul into this enterprise to get the best out of our skills, and we like to think we're doing to pretty good job! But we'll always say when we think things could be better, and when things don't go to plan. So here are some things that have challenged us a little this year!
One of the main challenges we faced was the number of additional services we had to develop pretty quickly as soon as we went live to give new sellers the tools they need to get their products online. We thought we had everything ready, but then not every seller was the same (surprise, surprise!) and we soon recognised we could do more to help them. This ranged from product variations to colour pickers, to multiple product discounts options. The more sellers used the site the more we kept spotting things we could do to improve the system, and we liked the challenge so we continued to use the flexibility that the custom-built system gave us to keep adding more features. And the site has grown with the sellers, every time someone new comes along they ask "can it do this..." and before long the answer is usually yes.
As we grew and our range of products grew, our site map grew and our understanding of how search engines were trawling the site started to develop. We were using all of tools just for us at first to improve the site's SEO but it soon became obvious that we weren't going to be able to do this alone, and getting sellers to understand how to improve their product SEO ratings on their products (along with the benefits that it can bring if done correctly) was going to be key. This has ended up with us developing a set of tools within in our sellers portal to score products based on a number of metrics, which helps improve site traffic, but has also improved the customer experience by improving the content of each of the products, which is a win win for everyone.
We've worked hard too to improve our communication with sellers and customers as we've grown, as things have obviously changed a lot along the way. It's gone from informal email chats with the few sellers we knew by name, to regular updates via portal channels and automated systems to make sure everything gets done. There are weekly newsletters to our customers with new product updates, and many things that we didn't have at the start of this journey. We still love to have chats to people individually, catch up on how things are going, and congratulate people on their progress, and we'll always make time to do that too.
So we had our first taste of running an online craft market and we could not be happier with how things are going. The positive comments that we've got along the way have really kept us going, along with each and every order, site visit and recommendation. We've still so much planned and hope you stick around to see things progress over the next 12 months.
Happy birthday to us!