Christmas Presents - Jewellery Gifts
Written by Chris Monaghan
December 13th, 2021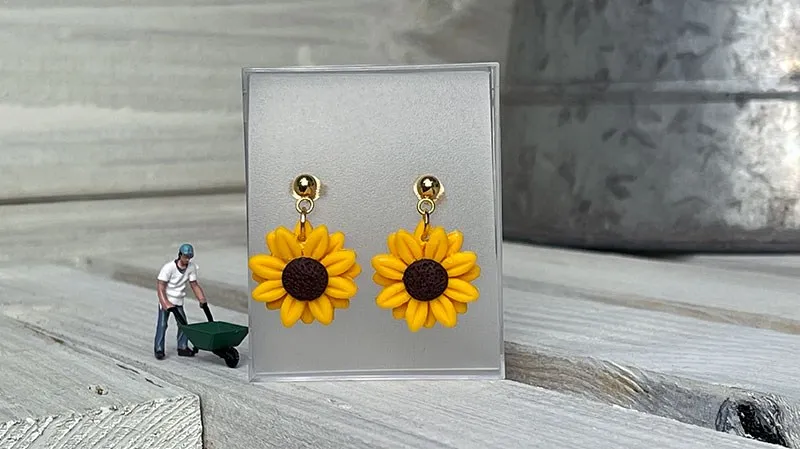 A bit of sparkle never goes amiss at Christmas time so let's dig out some treats with a collection of jewellery, all handmade by talented small businesses on Small Market.
Here are our recommendations for jewellery you can gift this Christmas time, all created by talented makers.
___
Earrings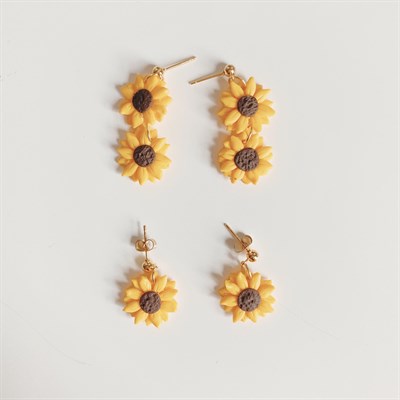 Sunflower Dangle Earrings by boadellacreations - £13.00
These dainty sunflower dangle earrings are the perfect addition to your any outfit this year. Available as single or double drops their simplistic colours make them an easy everyday pair and they are small enough to wear comfortably, while being colourful and bright enough to be very eye catching. The hypoallergenic earring stalks make them easy to wear for sensitive or newly pierced ears.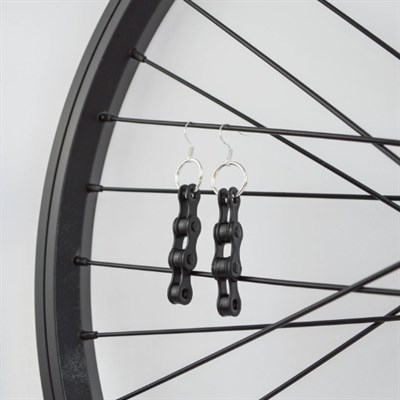 Black Chain Link Dangle Earrings by Reworked Customs - £11.00
These would make a brilliant gift for a bike lover. The bike chains are taken apart, coloured black, attached to jump rings and a hook. The result is a set of stylish earrings created from recycled bike chains as part of Reworked Customs sustainability commitment, whilst giving each set of earrings individuality and character.
Crystal Earrings by Lunar & Star - £23.00
These crystal earrings are handmade using ethical natural crystals. They're perfect if you want a unique look for daytime or an evening. Every pair of crystal earrings are hand crafted with sterling silver or gold filled wire.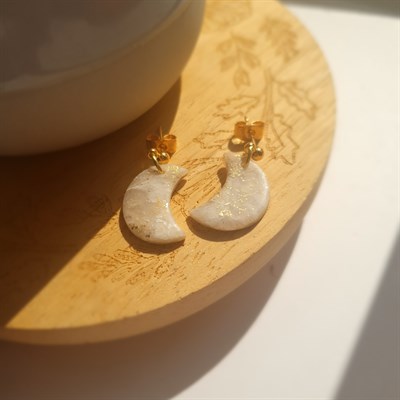 Simple Moon Earrings by Trinkets - £8.00
Simple faux white quartz crystal earrings, complimented by 18k gold plated findings.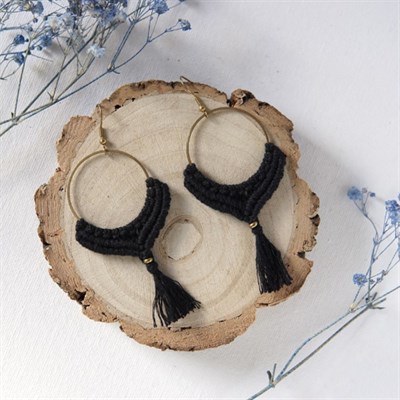 Macrame Hoop Earrings - Black N Brass by The Wood Spell - £9.99
These gorgeous macrame earrings are made from 100% cotton cord on a 35 mm brass hoop with a brass bead.
Necklaces
Yan Paper Bead Necklace by Bo Dell - £15.00
Yan is a bold handmade rustic paper bead necklace, strung on waxed cotton cord with a metal button and loop closure. With a strong earth tone it comprises of brown black gold colours. A lovely gift idea for someone that loves natural tones.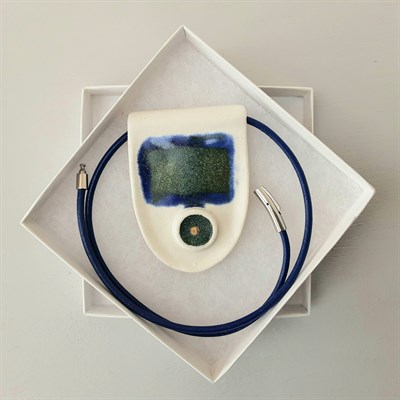 Feature Necklace With Sea Blue Artwork by 2minty studio - £35.00
This unique feature necklace with sea blue artwork is individually handmade from porcelain, decorated with a mini-artwork in deep blue and green above a cup of the glaze with a gold spot highlight. The plaque is 50 x 70mm and is made to wrap around an 18" (46cm) dark blue leather cord. The clasp is an elegant polished stainless steel bayonet.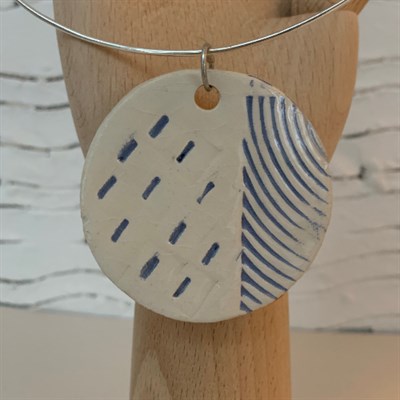 Handmade ceramic necklace by Shelley Wood Studio - £25.00
Handmade ceramic necklace, with silver choker fixing. This 60mm diameter ceramic pendant, is fitted to a 135mm diameter choker to create a striking and unusual necklace.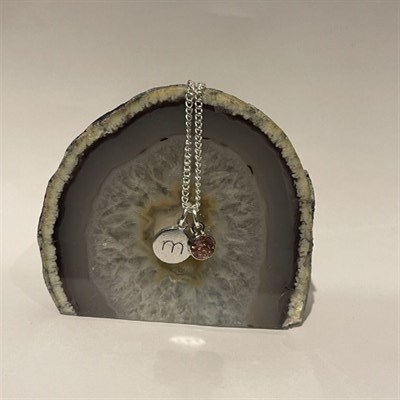 Birthstone initial necklace by Crafting Originals - £12.50
Personalised handmade metal stamped necklace with a birthstone charm. Made to order and perfect to send as a gift.
Other jewellery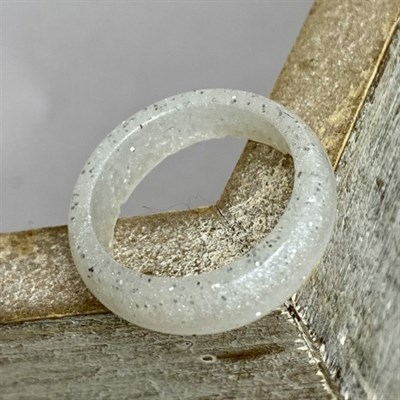 White crystal resin ring by The Indoor Artist - £6.50
Beautifully handcrafted resin ring in white with silver glitter. Size small measures 2cm in diameter.
Native American Beaded Cuff by Cosmic Kat Boutique - £30.00
Hand woven Native American design beaded bracelet / cuff. Each bead has been handwoven in an intricate Native American design using bright rainbow colours and galvanised silver beads. The cuff has been finished with vegan leather and a silver plated sliding clasp.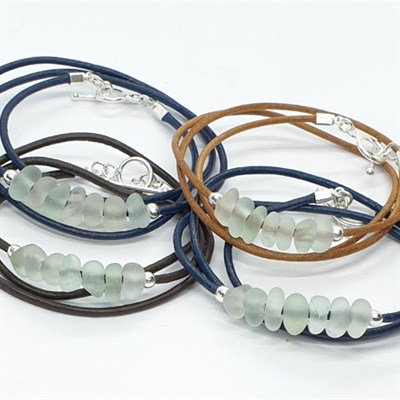 Triple-wrap leather & sea glass bracelet by Seapig - £26.00
Casual and fun; these triple-wrap leather bracelets has seven nuggets of light aqua and white/clear sea glass held in the centre with sterling silver crimps. They do up with a sterling silver toggle and loop clasp, to make it easier to put on when you're on your own. A beautiful gift with great eco-credentials.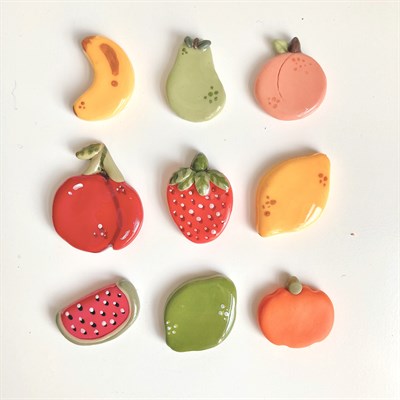 Fruity Friends Clay Lapel Pins by boadellacreations - £9.00
These fruity friends clay lapel pins are the perfect accessory to add to your bag, or jacket to add some colour and life. The clay pins are all fruit themed with bright colours for a fun and playful feel. They are handmade, and hand painted, as well as being fully coated with UV resin to add some shine, and to protect them from being scratched, chipped or from breaking easily. They are lightweight, so won't drag down so much on fabrics.
______
Find more jewellery, and so many more gift ideas, on Small Market now.