Meet the Maker - Purple and Orange
Written by Amy Monaghan
February 8th, 2021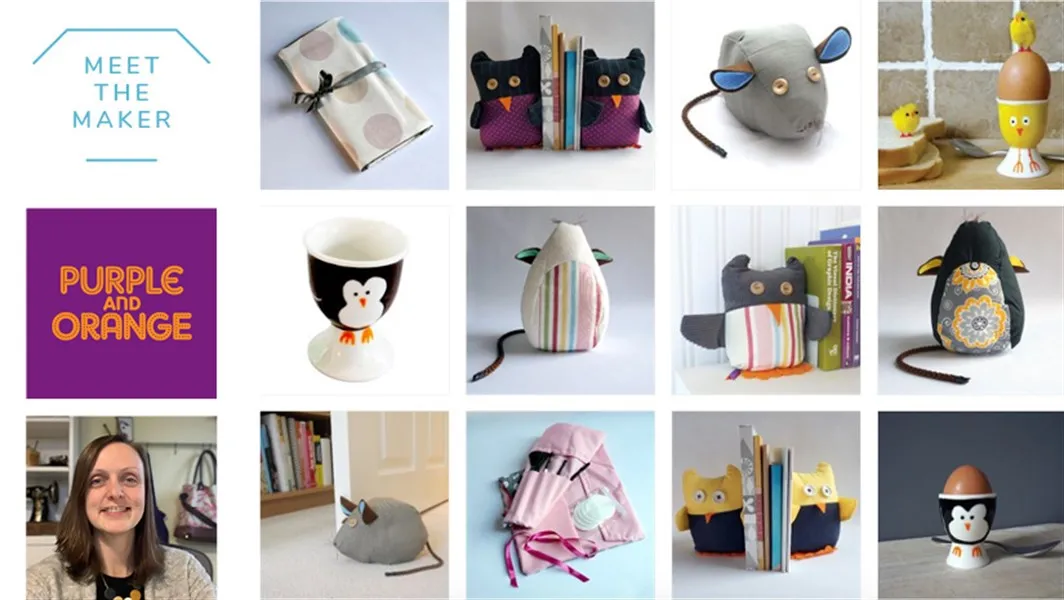 A meet the maker interview with the creator and maker at Purple and Orange who just happens to be a founder of Small Market...
Business Name: Purple and Orange
Maker: Amy Monaghan
Favourite Product: Egg cups
Ok, full disclosure here. This interview is in my own head, as this one is my business! I started Small Market with my husband Chris, he's the developer and I've been the creative input, but Purple and Orange was my baby first, so hello I'm Amy and I'm the maker from Purple and Orange.
Tell us about your business name
I started out by exploring the sewing side of my business first. I've always been good at creating patterns from scratch and became fascinated with fabric stashes and making animals from those fabrics. One of the first things I made was a pair of owl bookends. They had purple tummies and orange feet, and the little girl in the family that adopted them called them Purple and Orange, and so the name was born. They became little mascots for a while but I never made another pair the same as they were much more special just on their own.
When did you start crafting?
I've always been interested in making things. I used to draw or knit in the back of the car on the way to family holidays and have always had a craft cupboard full of goodies, even at university. I studied Graphic Design, which was an extension of my love of being creative, and still work in a design agency, although now I'm on the project management side. I remember learning to sew with my grandparents and craft mentors at an early age, and then when I was a (very amateur!) ballet dancer I would make my own costumes. I've probably also got a lot to thank Girl Guiding for, I spent a lot of my time at Guides preferring crafts to camping, and now run a Rainbow unit of my own which is very craft heavy - recruiting the next generation!
Tell us about your journey to here with Purple and Orange
I started out doing craft fairs in local venues, and really enjoyed the camaraderie that you get from a day with fellow crafters. Even if you didn't have a great sales day, decent stall neighbours and a cake stand would make it an enjoyable outing. I launched my own website but found it quite a lonely way of promoting yourself, which was when I started talking to some of my friends about the idea for Small Market. Purple and Orange took a hiatus, partly due to creating the new site and also due to ill health. Crafting has been a lovely companion through some tough times and I'm hoping that now things are getting back on track I can continue to develop my craft practices and bring lots of new products to the marketplace. Purple and Orange is that creative outlet for me, that I've maintained throughout my life and it's been a way for me to continue crafting and sell my makes to people when my family had seen enough!
What do you like to do outside of crafting?
The lockdowns have really focussed our minds to the things that we miss the most, and I'm desperate to get back on a dance floor. Modern jive was how me and husband Chris met, and a dance around the kitchen hasn't quite been the same as a proper night out. I'm not a drinker, so dancing or food have been good substitutes and help to keep me sociable. I'm missing friends and family enormously and although occasional walks are keeping me sane the draw of summer days and sitting together again can't come soon enough. We're also getting to be keen DIY-ers, buying a Victorian house saw to that, and once we're able to get back to the shops there will be one of a long list of new project on the cards.
And why are you selling on Small Market?
I could use this as an advert, but I'll try not to. I wanted Small Market to be a community of crafters with a shared ethos and lovely makes. So far so good. I'm really enjoying getting people signed up, learning about them and their beautiful stuff, and helping to promote their amazing small businesses to whoever wants to hear about them. I'll be happy if I sell a few egg cups along the way - those little guys have been my most popular makes!
_____
To find the complete product range from Purple and Orange you can visit the maker page on Small Market.
https://www.smallmarket.co.uk/seller/purple-and-orange