Willow & evergreen Collections
About Willow & evergreen
Hiya I'm indie! I sell boho cottage core inspired home decor, such as hand painted terracotta plant pots and cute polymer clay characters. I offer free uk shipping, all my packaging is eco friendly and plastic free, and every order comes with free stickers and a mini clay mushroom.
How did Willow & evergreen get started?
I've always been a creative person, and I have an obsession with house plants, so started painting pots to make my house plants look pretty and fit my aesthetic.
im Chronically ill, so I'm unable to work, so opening my small business allowed me to earn my own money while doing something I love.
A bit about where your lovely purchases are coming from
I make my products in my spare room with my two rescue rabbits!
I got my two bunnies berry and domino 3 years ago from a rescue centre I volunteered at. They were at the rescue centre for 4 years, were re homed reuse but returned for being not cuddly enough😢 but with a lot of patience I was able to build a trusting bond between us and they are the most loving bunnies!
being house rabbits in my office they get lots of attention and they give me some company and entertainment while I'm working.
I love working with my bunnies and cats! I post about my fur baby helpers on my Instagram if you would like to take a look🥰
And what about the crafting talent behind these great products
I paint my pots in 4 layers, a base coat, the base colour the design then a sealant. This ensures the plant pot will lasts and is good quality.
I use acrylic paint which I mix myself into the perfect boho shade for my pots, then add the details with posca pens and metallic paint.
Anything else? This is our sellers chance to tell you a bit about themselves
Hi, my name is indie. I'm a 17 year old house plant lover who enjoys art, so I decided to create plant pots and decorative accessories to share my love for art and plants with everyone
my products bring cottage core boho vibes to your home decor, inspired by nature and neutral colour palettes
I make all things plant and mushroom related, so stay tuned for my new collections!
I am chronically ill, meaning I have never been able to earn my own money. I wanted to start this business to allow me to have some more independence, while combining my love for art and plants.
I love plants, crystals and mushrooms which help inspire my designs. Every order will come with free mushroom stickers and a mini clay mushroom.
all my packaging is eco friendly and plastic free. For international orders I am reusing bubble wrap to reduce plastic waste.
Image Gallery
Here are just a few gift creations from Willow & evergreen, click on an image or visit the product page to find out more.
13 Reviews
Sage Green Sunflower Plant Pot
Stylish, bright & cheerful - will remind me of warm sunny days in the Winter months to come. Nice to know my purchase will help a good cause.
Dusty Pink Sunflower Plant Pot
I bought both the green & this pink sunflower design for my mini orchids & they are perfect. Pleasing to know my purchase helps a good cause too.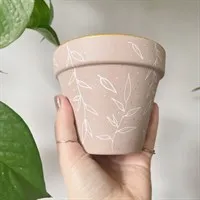 This pot is a pretty, subtle shade of pink with a delicate design, perfect for making any smaller plant look special. I've put one of my mini orchids in this one & it looks lovely. So much more stylish than a mass produced one.
Freckles The Frog Plant Friend
I bought this little frog for my friend and they really loved it. It looks amazing in their terrarium. Also, all the extra little gifts that came along with the order were just lovely. Made mine and my friend's day. Thank you so much! <3
Social Media Links
Willow & evergreen Policies