Festive Holiday Earrings
These adorable mini Festive dangles are the perfect little addition to your outfits this December! 🎄🌟🎄 They are handmade from polymer clay so they are lightweight and durable - perfect for wearing all day long! Choose from the holiday classics - gingerbreads, xmas tree or candy cane, rock your Christmas parties with a piece of handmade art! Each piece is delicately hand painted with love, so you can be sure you are purchasing something extra special - for yourself or as a gift!
Additional Details
Additional Details
MATERIALS
Polymer clay ceramic based medium
24k gold plated ball studs
Gold plated hooks
PLEASE NOTE
Every pair of earrings are unique and handmade so the pair you receive may differ from the pictures given. Each piece is bespoke but that makes them all the more special!! Some pieces may vary in design, colouring and their overall finished look if they are part of a marbled or terrazzo collection, so ask that you bear this in mind when purchasing. You will however be the owner of a truly unique piece of art!
CARE
- Please refrain from wearing your beautiful new earrings in the bath or shower. They are naturally water-resistant but leave them for after you get ready!
- Try to avoid contact with oils, lotions, hairspray, etc.
- If you need to clean your earrings (eg. makeup transfer), then you can do so simply with a cotton pad/q-tip and some acetone or water. Be very gentle and take care not to rub too hard as you may take some of the top layers of clay away.
- Store your earrings in a dry, secure place to prevent any unwanted scratches or damage - treat them well and they will last!
- Avoid dropping your earrings from a height, they are resilient pieces of work but damages could occur.
P&P
Every piece is lovingly wrapped in careful packaging to keep your new purchase safe during shipment. We use eco-friendly glassine envelopes and large letter cardboard boxes*.
*larger boxes will be required for larger orders
CUSTOM ORDERS
I am not currently accepting custom orders as a rule, but if you have something really special you would like to have made then please contact me! I will try my best to help you out.
SOCIAL MEDIA
You can find out more about me and my small business by looking for us on Instagram (@cherrys_charm) and Facebook (Cherry's Charm - Handmade Polymer Clay Earrings).
Thank you for checking out my shop and I hope you found something that you love!
Reviews
Reviews
There aren't yet any reviews for this product.
Other Product Reviews From This Seller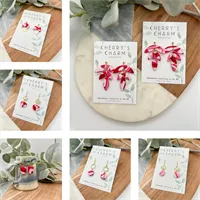 Lovely unusual earrings - so pleased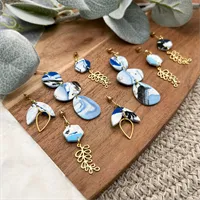 About Seller
About Cherry's Charm
Hi! My name's Shannen and I am the owner and sole creator behind Cherry's Charm. I sell handmade jewellery that is produced in slow, small batches and is beautifully lightweight yet durable. I have a wide range of sizes and styles to suit your preferences. All orders are packaged in eco-friendly glassine envelopes and shipped in cardboard boxes to keep your items safe. Cherry's Charm is my little love, and I create all my products with the utmost care. I hope you love them as much as I do! Shop Policies
Shop Policies
Delivery
Returns & Exchanges