Double Sunflower Dangle Earrings
These double sunflower dangle earrings are simplistic and eye catching, perfect for wearing this summer. They are brightly coloured with a warm yellow to make them easy to pair with your favourite outfits, while creating the right amount of statement. The hypoallergenic stalks make them comfortable for sensitive or newly pierced ears, as well as being extremely light so you can wear them all day 🌸✨
Additional Details
Additional Details
Size: 1.7cm W x 4.7cm H
Handmade with 100% polymer clay
Stainless steel earring stalks for comfort
Hypoallergenic for sensitive or newly pierced ears
Lightweight and comfortable
Please remove before showering and do not submerge them in water. This is to protect them from damage.
Reviews
Reviews
Fantastic quality, beautifully packaged. Absolutely love these and will order again for sure!
Really cute earrings! They are amazing quality and we're packaged really well. Shipping was quick. X
Other Product Reviews From This Seller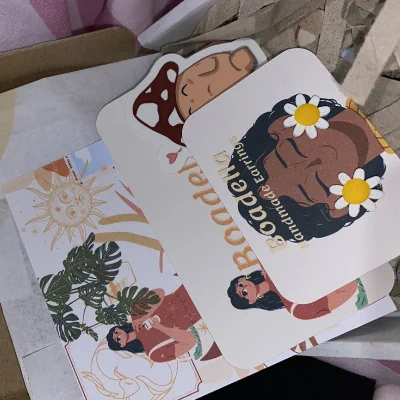 The cutest little earrings I ever did see! Absolutely love them!

Cute Blushing Halloween Ghost Earrings
Absolutely loved the earring sets I ordered.
About Seller
About boadellacreations
Hi, I'm Nora! 🌙✨ I've been running my shop for around a year now, selling my handmade jewellery, desk pals, art prints and hopefully much more in the future ;) My packaging is now 100% eco-friendly and sustainable and your orders are always wrapped with care and love so you have a wonderful experience when opening them 🍄✨ Shop Policies
Shop Policies
Delivery
Returns & Exchanges