Beeswax Kitchen Pack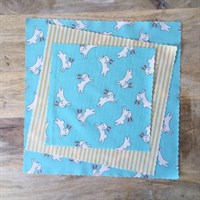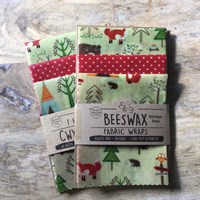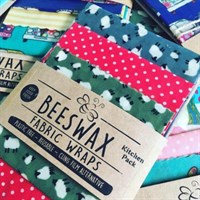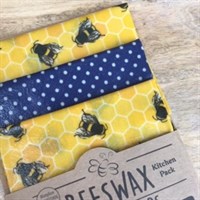 Beeswax Kitchen Pack
A pack of three resuable beeswax wraps. These wraps are a great plastic free alternative to clingfilm and are easy to use and clean and will last up to a year.
Additional Details
Additional Details
The Kitchen Pack contains a small, medium and large (20,25 and 30cm) wrap. The different sizes in this pack mean you have every eventuality covered. Cover small and large bowls, wrap sandwiches and flapjacks, keep half an avocado or onion fresh, wrap your cheese or make a pouch to take to your local zero waste shop for dried foods. The list for what you can use your wraps for is almost endless!
The fabric is 100% cotton with a Oeko-Tex Standard 100 certificate meaning it is non harmful to human health. We use our secret blend of local Anglesey beeswax, pine resin and organic jojoba oil to make the wraps super sticky and flexible so they mould round anything and form a great seal.
Once you have used your wrap, brush off any crumbs or wash in cold soapy water, let it dry and then its ready for use again. No more single use clingfilm and a brighter, cheerier fridge or lunch box!
Our packaging is bilingual (English and Welsh) so if you are Welsh speaking, live in Wales or know someone who does, these are a great gift to yourself or others!
About Seller
About Beeswax Fabric Wraps
In 2018 I decided to reduce the amount of plastic we were using at home and as part of this I made myself some beeswax wraps. I spent a long time getting the recipe and method right and after all the effort I decided to make some for friends and family and then didn't stop and it grew into the business I have today! A year ago I left my job as a Physio in the NHS due to long term health problems and now have the perfect alternative career and am loving this new lifestyle!
Beeswax wraps, for those of you who haven't used them before are a reusable alternative to clingfilm and tinfoil. They are easy to clean, last about a year and are really sticky to form a great seal to keep your food fresh, but not sticky to the touch. You can use them for covering bowls, wrapping cheese, sandwiches, bread, avocado halves, making pouches for snacks, freezing leftover brownies - if that's likely to happen in your house! - the list of their uses is endless!
If you have used beeswax wraps before, why buy ours? Not all beeswax wraps are the same... we use local Anglesey beeswax, pine resin and organic jojoba oil to make sure the wraps are properly sticky and flexible but not sticky to the touch. It makes them effective but also a pleasure to use. They last a year, if not longer, with the right care. I have some that have been going a lot longer than that. We also use all recyclable packaging or reuse packaging that has been sent to us. The cardboard we use is FSC certified meaning it comes from sustainable woodlands. We are also making the switch to organic cotton because of the effect non organic cotton farms has on local water supplies and the soil. You'll be buying from a small business who supports local charities (we have a local donkey charity and 20% of the sales from our green sheep and forest camping packs goes to support them), gets involved in the local community and who loves to hear from people who buy from us.
If you are Welsh or are buying for someone who is Welsh or speak Welsh, all our packaging is bilingual and the wraps and DIY kits can be packed with either Welsh or English on the front.
I should also mention that we make a plant wax version as well which is vegan friendly. Get in touch if you want to find out more about this and how to order these through the Small Market website.
Shop Policies
Shop Policies
Delivery
Returns & Exchanges
Other Beeswax Fabric Wraps Products View all