Meet the Maker - Vicky's Artistic Creations
Meet the Maker - Vicky's Artistic Creations
Written by Vicky Smith
May 3rd, 2021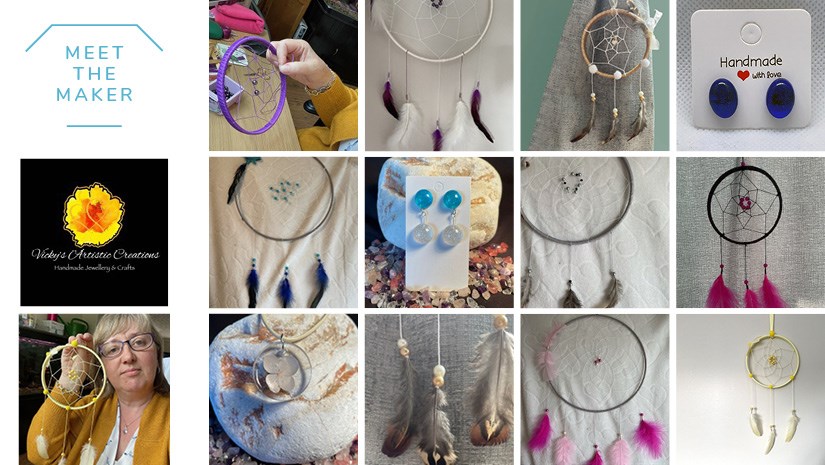 Vicky's Artistic Creations is the small business of Vicky Smith in Kent. Vicky was one of our first sellers on Small Market and has been on quite a journey with us already, with a complete change of craft and a new range of products in her shop.
We asked her a few questions to find out more about her making journey and her lovely creations.
______
Business Name: Vicky's Artistic Creations
Maker: Vicky Smith
Favourite Product: Cream and Purple Dream Catcher – It's one of those designs that just flowed together brilliantly.
Tell us about your business name - Vicky's Artistic Creations
My business name started off as Vicky's Jewellery Creations when I started seriously crafting a couple of years back, as things moved on and I changed some of the products I was making the Jewellery part didn't really fit. I wanted something classy and not too corny as at the time I was creating items with Epoxy resin, which is serious stuff, so with the help of my daughters we came up with Vicky's Artistic Creations. Choosing a business name is never easy as it needs to flow nicely, I think (hope) I have the right balance.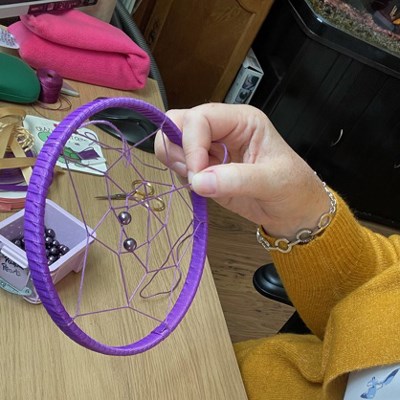 When did you start crafting?
I have always like art and creative things, my serious crafting started about 3 years ago after a health battle.
Tell us about your journey to here with your small business.
It's been a hard journey to get to this point, product issues, health issues, family issues and of course Covid have all taken some dealing with. Some days it's a struggle to sit down and design another item and there are many days that I don't touch it at all. However those days that I complete something are joyous and a huge sense of fulfilment. Getting a new item added to my shop is always exciting and I look forward to bringing you many more.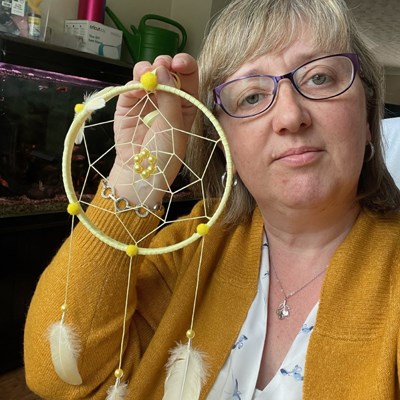 What do you like to do outside of crafting?
Outside of crafting I am a huge animal person. Our home is never quiet with 7 dogs, 3 cats, rabbits and various reptiles. Animals in our house include wildlife, currently with a family of foxes that visit every night for their supper. Of course I have a family as well, three grown up daughters and a husband 😊
And why are you selling on Small Market?
I didn't start out with Small Market, I had looked at other selling sites which are hugely popular and I had signed up to another site initially. I was contacted by Amy and Chris about their new venture of Small Market and whilst appealing I already had this other one. Things progressed and I was finding that the lack of support from the selling site just wasn't there, so I popped a message through to Amy and Chris about joining them. The appeal of a small, family run business was a huge draw for me and I loved their outlook for the future. Help and advice was always there, it still is 😊 I had the unfortunate task of changing my craft projects due to a nasty reaction from the Resin, again the support was there and greatly appreciated at what was a tricky time for me.
The site is fantastic and easy to use, I love the improvements that have been made along the way and it really feels like a family journey. It's a huge bonus that Small Market tries to keep the crossover of sellers products to a minimum, you just don't get that anywhere else.
______
It's been lovely getting to know Vicky better, and we are also keen on her animal updates on her Facebook page - tortoise news in particular! Find her on social media and find more of her beautiful creations on her Small Market shop.
Vicky's Artistic Creations Shop