Supermeeps Collections
A little bit about Supermeeps
We make art & limited edition products featuring our original characters. Our style is cute, funny and sometimes slightly twisted.
Image Gallery
Here are just a few gift creations from Supermeeps, click on an image or visit the product page to find out more.
7 Reviews
Minimal Tee Series - Bunny Ghost
Great merch. Swift delivery and super personalized note and packaging. Thank you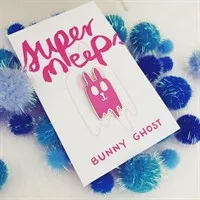 Minimal Tee Series - Skullyhead
Happy Customer
Minimal Tee Series - Bunny Ghost
Less is more. Love it
Commissions
We're happy to collaborate on unique commissioned products and merchandise, please feel welcome to get in touch and we can chat through your project at hand!
Social Media Links
Supermeeps Policies