Message from Quirky Memories
gemstone bracelets coming soon
Quirky Memories Collections
A little bit about Quirky Memories
Hi, I'm Sammy, I'm a Buckinghamshire based, multi fabric artist, my work primarily focuses on Embroidery and ribbon in my Textile pieces. I use Polymer Clay, Resin and Semi Precious Rocks and Stones in my Jewellery.
I am a Geosciences (Geology and Planetary sciences) Graduate, now studying an Engineering Degree. I am obsessed with fossils and the structures of crystals and rocks and the spiritual connections they hold. I love Cosplay and Steam punk, All of these passions influence my Art.
The name Quirky Memories is a combination of things; my personality is quirky as interpreted by most around me, as I don't ever specialize in "just one thing" I am always looking for the next creative outlet for an idea. The memories is both Geological and personal, Each stone, fossil, flower and structure is an imprint of a moment in universal time... a memory, I hope each item will serve as a memory for a moment in the life of the giver, or receiver of each piece, to commemorate the moment being recognized. A birthday, anniversary, promotion, or just to say I've been thinking about you. Then each individual piece will become a Quirky Memory for you too.
If you would like a specific item please get in touch.
Thanks for stopping by, Sammy
Image Gallery
Here are just a few creations from Quirky Memories, click on an image or visit the product page to find out more.
1 Review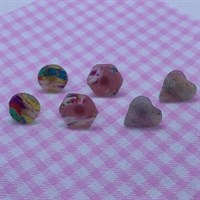 Love love love, fabulous quality. Super cute and comfortable to wear. Really happy with my order and can't wait to get some more. Would 100% recommend this seller.
Commissions
I'm happy to do commissions, so if there's anything you'd like to ask please get in touch.
Social Media Links
Quirky Memories Policies