Penbooks Collections
About Penbooks
Hand illustrated works made with love. Each piece of art, whether a bookmark or card, is hand illustrated by me!
Anything else? This is our sellers chance to tell you a bit about themselves
Hi! I'm Lucy and I love books! I started illustrating my own bookmarks during the first UK lockdown and fell in love with it! Now I'm looking to pass my joy of books and art on to you guys by offering hand-illustrated bookmarks and illustrations. Don't be afraid to get in contact if you'd like to make a request!
Image Gallery
Here are just a few gift creations from Penbooks, click on an image or visit the product page to find out more.
1 Review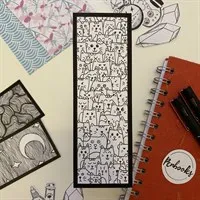 I bought this hand illustrated cat bookmark as a gift for my wife and she is absolutely over the moon with it! Many thanks to the seller :-)
Commissions
We're happy to do commissions, so if there's anything you'd like to ask please get in touch!
Social Media Links
Penbooks Policies