Cakes N' Bakes Collections
A little bit about Cakes N' Bakes
Hi I'm chelsea and I own Cakes N' Bakes, a little bakery run from my home kitchen. I sell everything from cupcakes to brownies and so much more! If you see anything you would like i would be over the moon to recieve an order from you. And remember a slice of cake a day keeps the doctor away.... well, that's what I like to think anyway😉
All my love
Chelsea x
Image Gallery
Here are just a few gift creations from Cakes N' Bakes, click on an image or visit the product page to find out more.
1 Review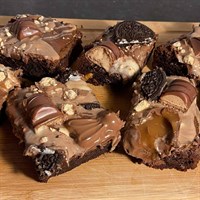 Great brownies that were very much enjoyed by the recipient. Will be ordering again for future birthdays as they make lovely, postable and tasty gifts!
Commissions
We're happy to do commissions, so if there's anything you'd like to ask please get in touch.
Cakes N' Bakes Policies