Moon Child Wall-hanging Macrame
Moon Child Wall-hanging Macrame
The macrame is made on a 15 cm long wooden stick and, made from 100% cotton cord with a lovely golden clay moon in the middle. This decoration will give your home a bohemian and witchy look.
Wall-hanging macrame designed and handmade in Scotland.
Reviews
Reviews
There aren't yet any reviews for this product.
Other Product Reviews From This Seller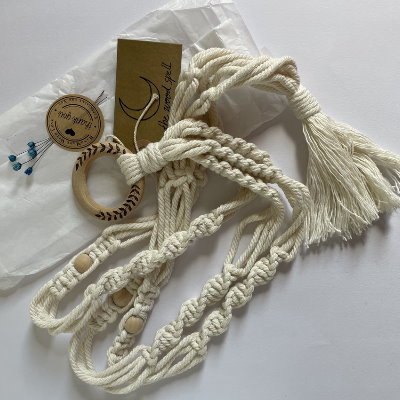 Simply Perfect - Macrame Plant-hanger
What a lovely product. Nicely wrapped, really beautifully made and arrived quickly. Will make a great gift.

Macrame plant-hanger with little skirt
This is beautiful. So pretty, really well made and looks great with a cute little plant inside :-)
About Seller
About The Wood Spell
Helloo,
My name is Lucia and I study Interior Design.
I started macrame during the first lockdown because of a college project, and I fell in love with it! I'm looking to create something new with natural materials.
I make macrame home decorations, earrings, clay ornaments and pyrography art.
Shop Policies
Shop Policies
Delivery
Returns & Exchanges