Tea Bag Wallet Tea & Coffee Drinkers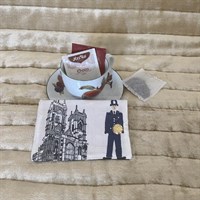 Tea Bag Wallet Tea & Coffee Drinkers
Tea Bag Wallets for Tea and Coffee Drinkers on the Move. Fabric Wallet ideal for carrying Tea and Coffee Sachets.
Additional Details
Additional Details
Tea Bag Wallet Tea & Coffee Drinkers
Carry your own decaf, herbal teas, coffee powder sachets and sugar with you in these wonderful little wallets.
Folds in half and secures with a button, measures approx 9x12cm closed.
Each one is individual, when ordering choose outside colour only, insides may vary in colour.
These Tea Bag Wallet for Tea & Coffee Drinkers make wonderful gifts, small and lightweight therefore ideal if you need to post a present or a lovely stocking filler.
Please note when choosing your design you choose the outside fabric, the inside fabric may vary as may the picture placement, but only subtly.
About Seller
About MADE at CLUARAN
MADE at CLUARAN came about in 2014 when I decided to combine my love of the countryside with my love of crafts. I'm lucky enough to have a home studio in the Wiltshire countryside where I'm inspired by what I see around me, the animals, colours, textures and seasons.
Sewing is my main passion and you will find lots of fabric items in my shop, that doesn't mean that the odd painting or sketch won't appear from time to time!
I hope you enjoy having a look through my shop.
Gaynor x
Shop Policies
Shop Policies
Delivery
Returns & Exchanges