Ocean Blue 1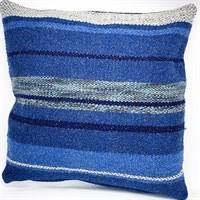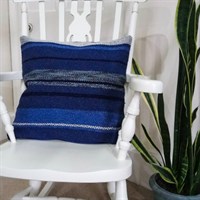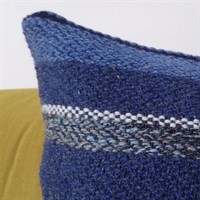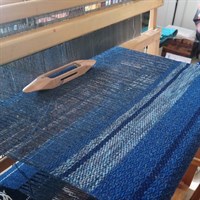 Ocean Blue 1
Ocean Blue 1 is one of a series of three handwoven cushions, I wove the fabric using a range of wool and cotton yarns that reminded me of the changing colours of the sea. The patterns in the stripes are also varied to give texture. Each one is unique and finished with a handwoven plain blue backing fabric and sturdy zip down the side..
Additional Details
Additional Details
Ocean Blue 1 measures 50 cm x 50 cm
The plain blue wool fabric on the back of the cushions was also woven on my 8 shaft loom, mainly because I couldn't find the right amount of the right fabric to finish the set. Each one is handmade entirely from natural materials and is unique and they work beautifully as a statement piece or as a set.
The cushion is supplied with a cotton filled cushion pad unless you say otherwise.
I recommend a gentle hand wash in warm water and dry outside if at all possible.
About Seller
About Five Turrets Handwoven
I live in Selkirk in the Scottish Borders and started weaving in 2015 when I got my first four shaft Ashford table loom. I love all things fibre but I'm truly hooked on weaving. I'm lucky enough to have my own home weaving studio to house my ever growing collection of looms.
I hope you like what you see in my shop. I make handwoven scarves, blankets and homeware. My craft is all about waste reduction and sustainability. Weaving is essentially interlocking warp and weft and my passion is to do that by combining unloved and surplus materials into one of a kind beautiful and useful cloth creations. Most of the yarns I use are Scrap Store or charity shop finds, mill ends and surplus stock. If I buy new, the emphasis is always on ethical production and from local spinners and dyers.
Shop Policies
Shop Policies
Delivery
Returns & Exchanges
Other Five Turrets Handwoven Products View all