Bunting Hearts Red Flowers Green Leaves
Bunting Hearts Red Flowers Green Leaves Art Watercolour print design.
6 wooden heart shapes decorated in printed card from an original watercolour colour design from Elizabeth Amy.
On brown string. Indoor use only. Uncoated card.
hearts are wood.
Hearts are approx 8cmx8cm. Bunting is approx 100cm. Perfect for hanging from shelves and fireplaces or on walls and doors. A lovely addition to an living room, kitchen or even child's bedroom. Easily attached to the wall or shelves with pins or blue tak.
Happy to do commissions and bespoke orders.
Additional Details
Additional Details
All designs are unique and lovingly handpainted by Elizabeth Amy in her Lancaster based studio. Designs are inspired by nature and gorgeous colours of flowers. I love to share my passion for colourful print and pattern through my watercolour designs.I paint all my watercolour designs for art and stationery by hand. I love working with watercolours because of the vibrant colours and the way the paints will run and mix together on the page. The colours can be so vivid as well as pale which is why I find this medium so fascinating to work with.All enquiries and commissions welcome don't hesitate to ask!
Reviews
Reviews
There aren't yet any reviews for this product.
Other Product Reviews From This Seller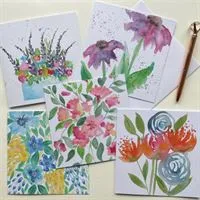 Such beautiful cards and great value for money. Thank you
About Seller
About Elizabeth Amy Art
I love to share my passion for colourful print and pattern through my watercolour designs. I am hugely influenced by the colours and patterns in nature and mainly specialise in floral designs including bluebells, roses and poppies. I love working with watercolours because of the vibrant colours and the way the paints will run and mix together on the page, they can be unpredictable but that's one of the reasons I find the medium so fascinating to work with. Shop Policies
Shop Policies
Delivery
Returns & Exchanges