Pride Rainbow Belgian Chocolate Bar
To celebrate pride month, enjoy this limited edition rainbow chocolate bar to admire everyone's individuality and be proud of who we are!
This colourful bar is topped with a rainbow cookie, smarties, Haribo rainbow belts, giant jazzies, white chocolate stars and sprinkles. It can also be topped with a name of your choice.
Additional Details
Additional Details
- Individual bar is 16cm x 8 cm on a 100g chocolate base.
- The large slab which is 15cm x 12cm on a 200g chocolate base.
- Extra large coin option is 18cm diametre with a 500g chocolate base.
Each of our products are handmade with love and may vary in appearance but rest assured, they all taste just as delicious as each other!
The best before date is 3 months from purchase (but they will taste just as yummy further down the line).
All of our products are made in a kitchen where all common allergens are present. As a result, we are unable to guarantee our products are allergen free and therefore do not recommend ordering any of our items if you do have any allergies.
Reviews
Reviews
There aren't yet any reviews for this product.
Other Product Reviews From This Seller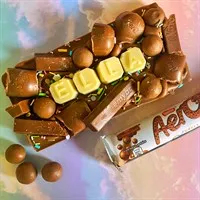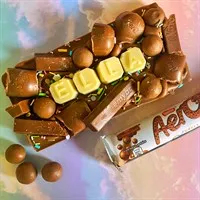 Love that there is such a lot of options for toppings!
About Seller
About Coco Queens
Are you looking for the perfect treat for a loved one or even yourself?​ Look no further! Coco Queens create eye-catching, handmade, Belgian chocolate delights that are fit for a queen.​
From custom-made blocks, to baby themed chocolate, we've got you covered.​
Check out our shop to see what tickles your taste buds.
Shop Policies
Shop Policies
Delivery
Returns & Exchanges