Wax Melt Christmas Collection 5
Each clam holds approx 120g of wax, and has 3 melts in each scent. All are beautifully finished with a hand tied bow!
Our wax melts are all hand poured using high quality ingredients, we use our own custom blend of wax that we have perfected over the past 3 years to ensure our melts are both highly scented and long lasting, our fragrance oils are responsibly sourced and are NOT tested on animals. All of our melts are CLP compliant.
Additional Details
Additional Details
Wax Melt Christmas Collection 5 - Chestnuts Roasting On An Open Fire
Christmas Spice
A stunning, spicy Christmas composition. Warming notes of nutmeg, cinnamon and clove underpin a glazed orange heart. A must-have Christmas classic.
The Nutcracker
A rich accord with lemon rind, orange and clove followed by a heart of roast chestnut, caramel, pumpkin, cinnamon and nutmeg on a base of raisin, sandalwood, oak, sugar and nutty vanilla.
White Cocoa & Christmas Cookies
Reminiscent of a steaming white cocoa, combined with the warmth of delicious Christmas cookies straight from the oven, this fragrance combines sweet nuances of biscuits and nutty nuances. All of this is smoothed by creamy, delectable lashings of vanilla.
Frankincense & Myrrh
The warm aromatic aura of the passion of Christmas with frankincense immersed in warm amber, rock rose and myrrh. These are complimented by three regal woods from the Orient, cedar, vetiver and patchouli.
Reviews
Reviews
There aren't yet any reviews for this product.
Other Product Reviews From This Seller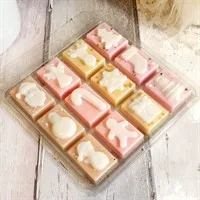 Lovely product, and maybe the most beautiful and thoughtful parcel I have ever received! With nice little touches to make it extra special, thank you so much.
About Seller
About AroMelts
My name is Kat and I make and sell lovely scented wax melts Shop Policies
Shop Policies
Delivery
Returns & Exchanges