Blue/green single buttoned ceramic vase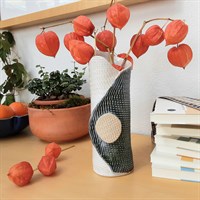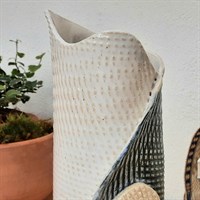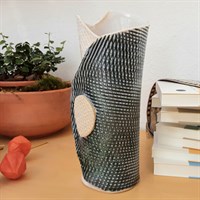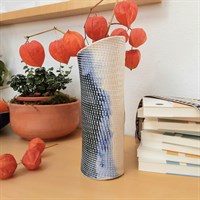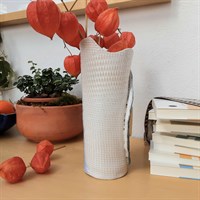 Blue/green single buttoned ceramic vase
Handbuilt blue/green single buttoned ceramic vase featuring a large white button and a wraparound flap
Additional Details
Additional Details
None of my ceramics are regular in shape or form. I don't use a potter's wheel: everything starts out as a plain slab of clay and is then cut, curved, rolled, moulded, sculpted, impressed, textured, and anything else that comes to mind to produce a unique and distinctive piece before being glazed and fired. This process is called handbuilding. As a result, no two pieces are identical. Similar, maybe. But never identical. Even the foot (the term for the base that the piece stands on) is unconventional. Well, it's more fun that way!
This piece, the blue/green single buttoned ceramic vase, is built from stoneware and is one of a series of vases built to a wrap-around theme. They all emphasise their origins as a flat slab of clay by showing how the two ends overlap and make a watertight seal. The button feature is something of a light hearted trademark. As you can see, this vase is built as if it is a snug coat, wrapped around its contents. In fact, this helps support longer stemmed flowers at the back and slightly shorter ones at the front, making a better display. The exterior is textured and glazed in a dappled sea green, blending to white through a pale blue; the interior is white. Helping to emphasise the coat theme, the wraparound is fashioned as if has a flap, held closed by its unglazed button, though it is actually watertight.
Overall dimensions are:
Height : 185mm
Top diameter : 80mm maximum
About Seller
About 2minty studio
Hello! We are a husband and wife team at 2minty studio.
Mostly it all started when we moved house and had a real studio, on site, with plenty of space. It was amazing and very quickly we both wanted to act on creative ideas which had been bubbling in the background for a while.
Girts, a retired architectural photographer, has always been intrigued by hand-built ceramics, the possibilities with shape, texture, glaze and decoration just really engage him. So a new kiln came to the studio and all sorts of things began to disappear from the house, empty bottles to use as moulds, kitchen scales, and lengths of material to create textured clay all found their way there. He shapes the clay by hand rather than using a potters wheel.
When the kiln is opened after a firing and the waiting for it to cool down is over, the lid is lifted with great excitement. Will it be triumph or tragedy? Thankfully, usually the former.
My paper weaving started some years ago when I was doing test prints of abstract photos I had taken for book publishers to use on their covers. The fine art paper was so lovely and velvety I couldn't throw them away. Later I came back to them and cut one into strips, and the rest just followed naturally.
I love how the colours and textures interact when woven, it's quite a slow progress but I love to watch it take shape. It's exacting and methodical work but I find it relaxing. I have quite a paper stash, lots of old maps which I love, old books and shop catalogues. Always the paper is acid free and matt.
Recently I've really enjoyed making something that is three dimensional and the cotton rope bowls have become addictive. So many ways to decorate, and an infinite number of possible shapes, all so useful. In our house, every prototype bowl gets filled very quickly!
Jan
Shop Policies
Shop Policies
Delivery
Returns & Exchanges