Skullyhead & Heavenly Flower Tee
Skullyhead & Heavenly Flower Illustrated Tee from Supermeeps!
Features a front-pocket design, and full artwork on the back.
A unisex-cut, medium-thickness soft cotton T-Shirt.
Additional Details
Additional Details
Our tees are unisex, and therefore you should consider the sizing to be closer to standard men's sizes. Ladies you can safely choose a tee size one size smaller than your usual size. Unless you wish to rock the oversized tee look :)
Reviews
Reviews
There aren't yet any reviews for this product.
Other Product Reviews From This Seller

Minimal Tee Series - Bunny Ghost
Great merch. Swift delivery and super personalized note and packaging. Thank you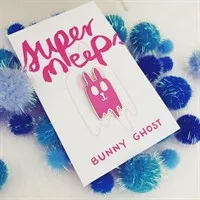 About Seller
About Supermeeps
We make art & limited edition products featuring our original characters. Our style is cute, funny and sometimes slightly twisted.
Shop Policies
Shop Policies
Delivery
Returns & Exchanges