Plant What You Need Gift Box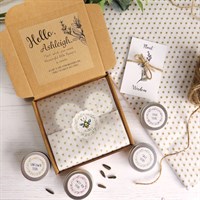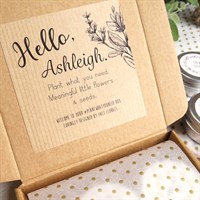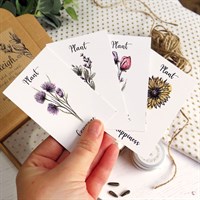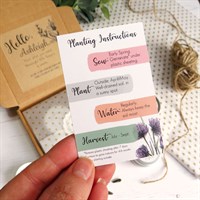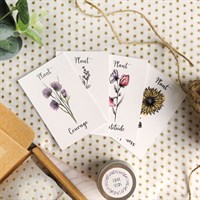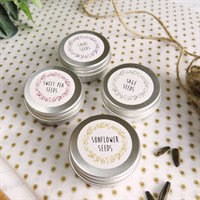 Plant What You Need Gift Box
Plant What You Need; Meaningful little flowers & seeds. A great gift for any keen green fingered gardener, or just to let someone know you're thinking of them.
Additional Details
Additional Details
Each flower or plant has been carefully selected because of its symbolism. Allowing the gift recipient to 'plant what they need', including Plant Happiness, Plant Courage, Plant Gratitude and Plant Wisdom.
Our 'Plant What You Need' Letterbox Gardening Gift includes the greeting message; "Plant what you need. Meaningful little flowers & seeds.", (see our photo gallery for example).
Why not personalise this Letterbox Gardening Gift? By including the name of your gift recipient and your own personalised greeting message.
Each 'Plant What You Need' box comes with four sets of seeds including Sunflowers, Sweet Peas, Sage and Chives, and planting instructions for each plant variety. Our Seeds are kept safe in an aluminium pot, which can be reused after the seeds have been planted.
We believe that it's the finishing touches which make a gift extra special, which is why each 'Plant What You Need' box is wrapped and sealed on the inside by hand, finished with an illustrated bumble bee stickers showcasing the seeds 'bee friendly' qualities. Each box is then gift wrapped & posted in a recyclable mailer.
Sunflower Seeds: Approx 6 seeds.
Sweet Pea Seeds: Approx 10 seeds.
Chive Seeds: Approx 30 seeds - 0.3g weight.
Wood Sage Seeds: Aprrox 20 seeds 0.2g weight.
About Seller
About Face Florals
Hello, and welcome to Face Florals.
I am Hanna, the founder of Face Florals, and I run my small business with my faithful companion Obi at my side.
We are passionate about all things floral, and think it's important to give back to planet as well as protecting it. We run our business with an earth-friendly approach, creating products which offer our customers an eco-friendly alternative to other products on the market.
Face Florals began from an addiction to pressing flowers and a love of music festivals. Back in 2015, I noticed a gap in the market for eco-friendly festival make-up products, and I had always wanted to turn my love of pressing flowers into a business. It was from here that the idea of pressing flowers for decorative use on the face and body began.
The journey Face Florals has been on over the last 5 years has been incredible! I have taken Face Florals to music festivals, such as Glastonbury Festival, worked with some amazing brands and even had the products featured on Made in Chelsea. In 2020 I launched my first line of Seed Boxes to co-inside with my pressed flowers line. Many of the seeds within our Seed Boxes are perfect for pollinators, helping to build habitats for vital insects including our British Bees.
Shop Policies
Shop Policies
Delivery
Returns & Exchanges