Boho Terrazzo Jewellery Dish Holder
This boho terrazzo jewellery dish holder is the perfect addition to your home decor for a chic, boho look. The dish is made from polymer clay and glazed in uv resin to give it a gorgeous shine in the sun, as well as protect it from heat if you decide to use it for your hot drinks. The array of colours brings a pop of brightness and colour to the piece, and creates a very eye-catching effect. Each dish is completely handmade by me and unique 🌙✨
Additional Details
Additional Details
Size : 10cm W x 10cm H
Handmade by me with polymer clay
Each coaster is coated in uv resin for shine and protection against heat and liquids
This dish can be used to hold jewellery, accessories, hot drinks and any other decorative items
The uv resin gives the dish a gorgeous shine in the sun, and protects the terrazzo chips from breaking.
Each dish is completely unique
Reviews
Reviews
There aren't yet any reviews for this product.
Other Product Reviews From This Seller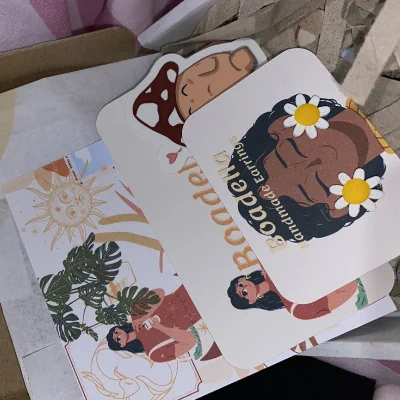 The cutest little earrings I ever did see! Absolutely love them!

Cute Blushing Halloween Ghost Earrings
Absolutely loved the earring sets I ordered.
About Seller
About boadellacreations
Hi, I'm Nora! 🌙✨ I've been running my shop for around a year now, selling my handmade jewellery, desk pals, art prints and hopefully much more in the future ;) My packaging is now 100% eco-friendly and sustainable and your orders are always wrapped with care and love so you have a wonderful experience when opening them 🍄✨ Shop Policies
Shop Policies
Delivery
Returns & Exchanges